Swedish property portal Hemnet once again ranked most popular in the world according to new report
10 December 2020
| Non regulatory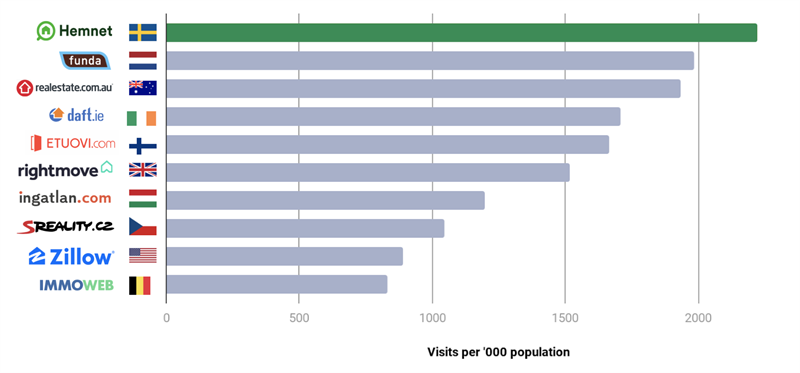 A new ranking of the 50 largest property portals shows Hemnet once again as the most popular in the world, highlighting the continued interest that Swedes have towards their homes and the property market.
During September, Hemnet had 22 million visits, or 2222 visits per '000 population, according to data from the website analytics tool Similarweb which has been compiled by the industry analyst AIM Group. Hemnet tops the list of the world's most popular property portals. Dutch portal Funda comes in second followed by Australian Realestate.com.au. AIM:s ranking does not include app traffic and in August Hemnet's total traffic was 71,4 million visits. Hemnet broke its traffic record three times during 2020 in May, August and September. Hemnet recorded 72,6 million visits during September which was an increase of 22 percent compared to the same month last year.
- We are of course very proud that Hemnet is the most popular property portal in the world. 2020 has been a year filled with challenges and uncertainty due to Covid-19, but it is evident that our homes have never played a more important role in our lives than now. We have focused on continuously developing our products and services, with an ambition of being a world class portal and it is wonderful to see the positive results, says Cecilia Beck-Friis CEO of Hemnet.
Rank

Portal

Visits per ´000 population

Total visits per month (million)

Country

1

Hemnet.se

2222,2

22,0

Sweden

2

Funda.nl

1984,0

33,8

The Netherlands

3

Realestate.com.a

u

1934,7

47,4

Australia

4

Daft.ie

1708,3

8,2

Ireland

5

Etuovi.com

1665,7

9,2

Finland

6

Rightmove.co.uk

1518,5

100,5

UK

7

Ingatlan.com

1195,9

11,6

Hungary

8

Sreality.cz

1047,2

11,1

Czech Republic

9

Zillow.com

890,7

289,0

USA

10

immoweb.be

831,2

9,5

Belgium
Methodology: The AIM list is compiled only from real estate marketplaces and classifieds. Horizontals with a real estate component are not included in the list. The ranking is based on total monthly visits in August 2020, sourced from SimilarWeb, with international domains aggregated to create a traffic total for one specific brand. For example, monthly visits to all Idealista sites globally have been combined into one total.
For more information please contact
Staffan Tell, Head of PR, Hemnet
[email protected], +46 73-367 66 85