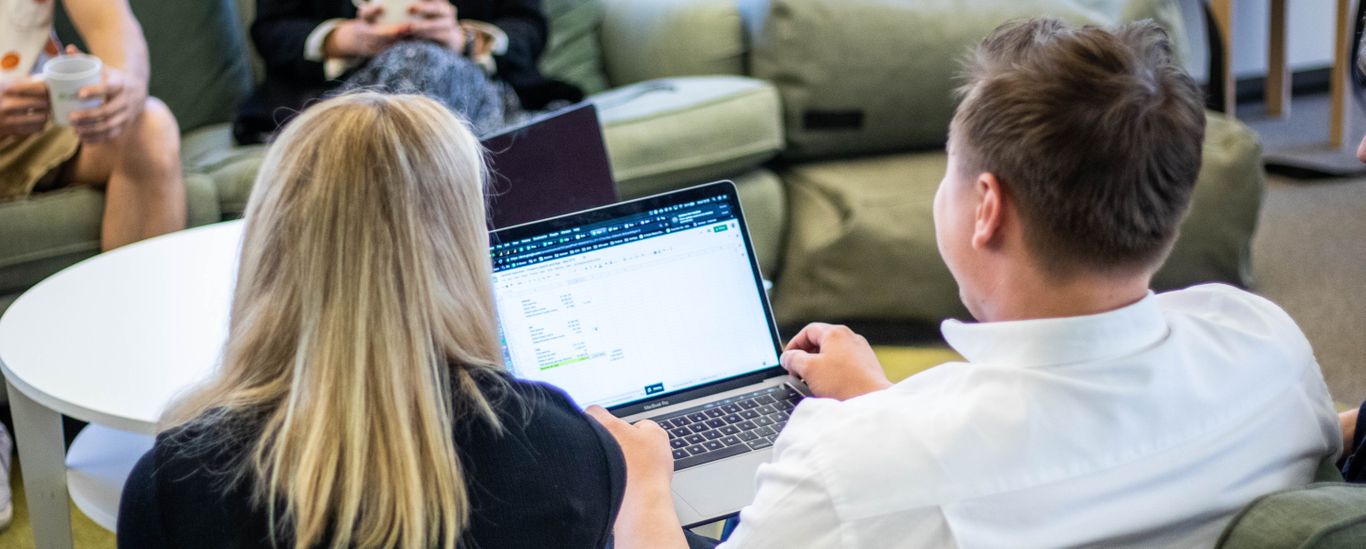 Our growth strategy focuses on enriching our offering to our most important target groups
The starting point for our growth strategy is to continue to be the property platform that home buyers turn to first. This strengthens our position as the natural meeting place for all stakeholders in the Swedish housing market. With them gathered in one place, we have fantastic conditions to create products and services that make it easier and more efficient for home sellers and business partners to get in touch with relevant buyers and consumers.
Our strategy rests on three pillars: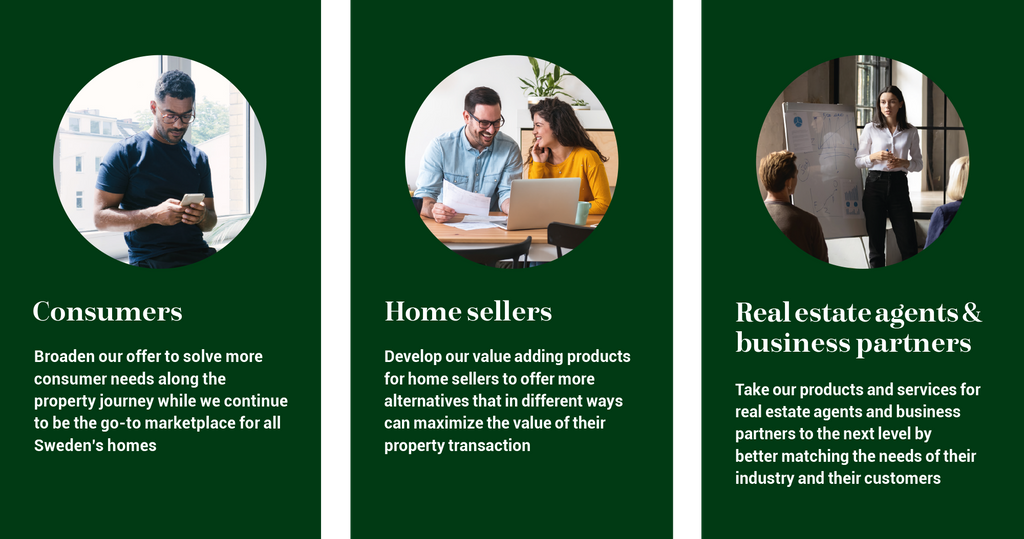 Consumers:
The first hand choice among property platforms
The core of our business is to be the preferred property platform for consumers. In 2020, a record number of visitors turned to Hemnet, and above all to our mobile platforms. We are also proud to have 10 times more traffic than our nearest competitor*, which underlines Hemnet's strong position among consumers.
For Hemnet, the focus is on developing smart and intuitive tools to help our visitors navigate, in principle, Sweden's entire available housing supply, while also creating engagement with data, informative articles and individually tailored surveys. By offering inspiring content, we are relevant for all those interested in housing and the housing market – even for those who are not in an active buying or selling phase right now.
Our strategy towards consumers is to build value by developing new and effective tools that help our visitors during most of their housing journey, and thus continue to be the place that home buyers and sellers choose to visit first.
* for desktop according to Similarweb.com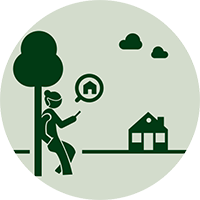 Home sellers:
The most effective way to advertise your home
Over 90% of all residential properties sold in Sweden through a real estate agent are advertised on Hemnet*. A home is sold today on average about three weeks after being listed on Hemnet. As the country's largest marketplace for housing, our aim is to offer the best possible conditions for a continued efficient housing market, and for home sellers to reach a maximum number of prospective buyers.
Home sellers have different needs, and we continue to develop different products to meet them. In recent years, we have developed and launched a number of different additional services that home sellers choose in consultation with their real estate agent. These products are purchased in conjunction with or after publishing a property, in order to attract more potential buyers to a property through extra exposure on Hemnet and on other channels. Our goal is to make the services so attractive that a majority of home sellers who advertise their home on Hemnet choose to upgrade their base ad.
Our strategy towards home sellers is based on continuing to develop our additional services in close collaboration with real estate agents, our most important resale channel, to help sellers maximize the value of their property transaction.
* Based on data from Statistics Sweden and Hemnet for 2019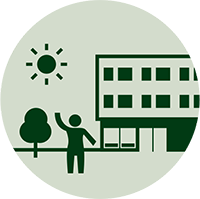 Real estate agents and business partners:
An effective platform for content-close marketing and new customer relationships
Hemnet has a number of different partners such as real estate agents, property developers and other business partners that turn to Hemnet to advertise. What real estate agents and our other business partners all have in common is that they, through the collaboration with Hemnet, gain access to the majority of Sweden's potential home buyers and people interested in housing.
Real estate agents are one of our closest and most important partners and one of our largest customer groups. Approximately 85 percent of all advertisements published on Hemnet come from real estate agencies that subscribe to the subscription service Hemnet Business.
Furthermore, real estate agencies are investing in brand-building advertising via Hemnet to strengthen their position and increase the number of new contacts with potential home buyers and home sellers. Real estate agents also play an important role in our sales of value added services to home sellers as resellers. The real estate agencies that have a commission agreement with Hemnet also receive a commission on value adding services sold to home sellers. In addition, all real estate agencies receive an administration fee for work performed in connection with the publication of an ad on Hemnet.
Property developers are the single largest group of advertisers on Hemnet. In addition to purchasing marketing space in our various channels, property developers publish both upcoming project advertisements and individual properties for sale on Hemnet. We are constantly working to improve and streamline our products aimed at property developers in close consultation with our customers.
Hemnet is a niche site with a broad reach, and in addition to the important customer groups above, we also attract display and native advertisers (editorial content sponsored by an advertiser) from a range of content-close industries, such as mortgages, consumer loans, interior design or household services. All of our customer groups buy advertising on Hemnet in the form of display ads, native ads or integrations, and we are one of the fastest growing players on the Swedish advertising market according to IRM (source: IRM, Q4 2020 report). Hemnet's strategy for growing our partner business is to continue to expand our B2B product portfolio beyond display ads and create powerful products that meet our customers' needs, provide tools and data for wiser decisions and simplify everyday life.
Our growth strategy for real estate agents and business partners is based on creating products that increase the efficiency of our partners' work and strengthen their brands to attract the largest number of potential property buyers, property sellers and other consumers.
Read more about our offers to our different target groups under Our offer.