Hemnet ranked among the top three listed companies that provide equal employment opportunities in Sweden
14 October 2021
| Non regulatory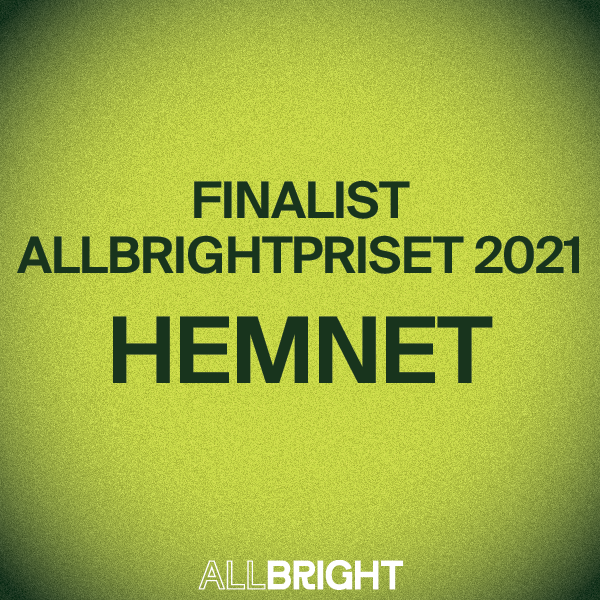 Today, Hemnet was one of three finalists when the award Allbrightpriset 2021 was announced in Stockholm. The award is given annually to a company which has distinguished itself in its work for equality and diversity.
- At Hemnet we view diversity, inclusion and equality as essential elements for success and we are proud and happy to receive the acknowledgement that being a finalist for the Allbrightspriset entails. We are convinced that a workplace with diverse experiences and backgrounds creates a creative, dynamic and joyful environment for people to develop and grow in, says Cecilia Beck-Friis, CEO at Hemnet.
Allbright is a politically-independent, non-profit foundation that promotes equality and diversity on the executive business level in Sweden. The Allbrightpriset is awarded annually to the most equal listed company in Sweden.
In a first step all listed companies with an equal gender distribution in the management team were nominated. The winner has been chosen after a solid process with employee surveys and interviews with the CEO which was then evaluated by the Allbright jury. The Jury consisted of Brandon Sekitto, co-founder Nodnarb, Caroline Farberger, CEO Ica Försäkring, Deqa Abukar, co-founder Bling Start-Up, Johan Oljeqvist, CEO Fryshuset, Lili Assefa, CEO Assefa Communication, Michaëla Berglund, CEO Michaël Berglund and chairman Allbright and Sven Hagströmer, chairman Avanza and Creades as well as founder of Allbright.
*****************************************
Notes to editors
Press enquiries
Staffan Tell, Head of PR
M: +46 733 67 66 85
E: [email protected]
About Hemnet
Hemnet operates the leading property platform in Sweden. The company emerged as an industry initiative in 1998 and has since transformed into a "win-win" value proposition for the housing market. By offering a unique combination of relevant products, insights and inspiration, Hemnet has built lasting relationships with buyers, sellers, and agents for more than 20 years. Hemnet shares a mutual passion for homes with its stakeholders and is driven by being an independent go-to-place for people to turn to for the various housing needs that arise through life. This is mirrored in the Company's vision to be the key to your property journey, supplying products and services to improve efficiency, transparency and mobility on the housing market. Hemnet's is listed on Nasdaq Stockholm ('HEM').
Follow us: hemnetgroup.com / Facebook / Twitter / LinkedIn / Instagram