Hemnet launches new brand concept - The Way Home
19 September 2022
| Non regulatory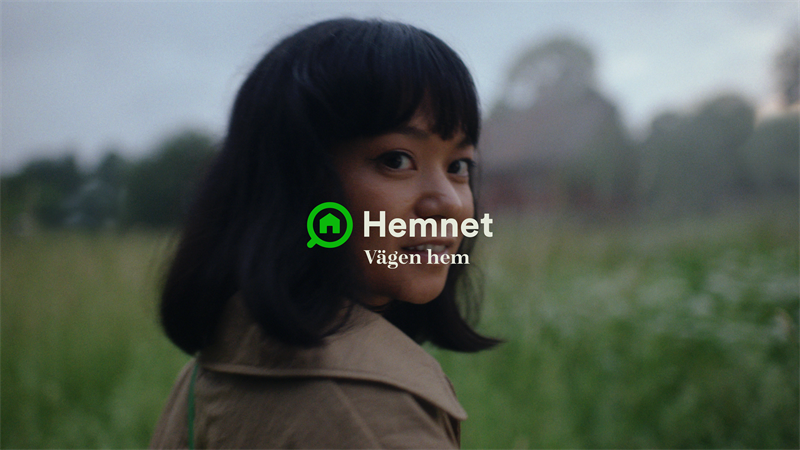 Today, September 19, Hemnet launched its first brand campaign in several years. The campaign is based on the company's new brand concept "The Way Home", which serves to remind Swedes about the value of an open housing market and of the fact that Hemnet brings together a large part of Sweden's prospective home buyers, real estate agents and homes for sale in one place.
"Hemnet is one of the most well-known brands in Sweden, but it's been a long time since we talked about our purpose in any broader communication. That is why we think it is time to remind our consumers about the value that Hemnet creates as the property portal that gathers the most prospective home buyers, real estate agents and homes for sale in one place," says Jessica Sjöberg, Chief Communications and brand officer at Hemnet.

"Since its inception, Hemnet has considered its most important mission to make finding a new home as easy, efficient and smooth as possible. We believe that the way to get there is through an open and transparent housing market, and that such a market benefits everyone by making it easier for more people to connect and find the right home. These are some of the fundamental messages of our new campaign and the brand concept on which it is based," says Jessica Sjoeberg.
The campaign will mainly be seen on Sweden's largest commercial TV channel TV4, as well as in social media and on Hemnet during the autumn. Hemnet has worked with advertising agency Nord DDB to develop the brand concept and campaign. Behind the commercial stands the production company Aspekt.

Watch the TV commercials below (with English subtitling):

Hemnet The Way Home full length
Hemnet The Way Home bathroom scene
Hemnet The Way Home bedroom scene
*****************************************
Press enquiries
Staffan Tell, Head of PR
M: +46 733 67 66 85
E: [email protected].
About Hemnet
Hemnet operates the leading property platform in Sweden. The company emerged as an industry initiative in 1998 and has since transformed into a "win-win" value proposition for the housing market. By offering a unique combination of relevant products, insights and inspiration, Hemnet has built lasting relationships with buyers, sellers, and agents for more than 20 years. Hemnet shares a mutual passion for homes with its stakeholders and is driven by being an independent go-to-place for people to turn to for the various housing needs that arise through life. This is mirrored in the Company's vision to be the key to your property journey, supplying products and services to improve efficiency, transparency and mobility on the housing market. Hemnet's is listed on Nasdaq Stockholm ('HEM').
Follow us: hemnetgroup.com / Facebook / Twitter / LinkedIn / Instagram