Hemnet announces finalists for Guldhemmet 2022
10 February 2023
| Non regulatory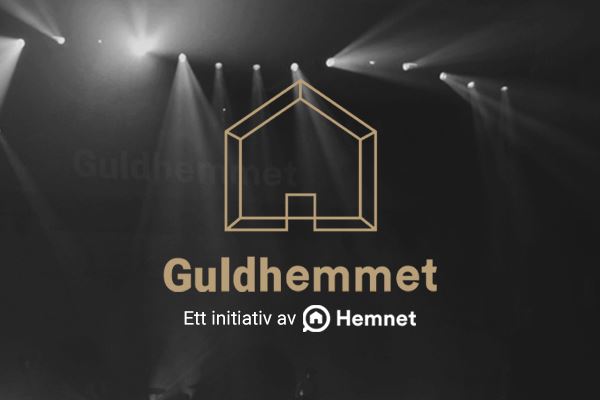 After going through and evaluating more than 350 nominations, the Guldhemmet jury has now named a total of 21 finalists. Winners will be announced March 23 at Eric Ericsonhallen in Stockholm at Hemnet's Guldhemmet gala, which recognises some of the leading profiles and strongest efforts in the Swedish housing industry.

Guldhemmet is an initiative from Hemnet that, for the fourth consecutive year, gathers and highlights the best achievements of the housing industry from the past year. The gala will take place on March 23 at Eric Ericsonhallen in Stockholm and be hosted by a super duo known from several popular Swedish radio and TV shows - Kodjo Akolor (Morgonpasset i P3, Musikhjälpen, Melodifestivalen) and Arantxa Alvarez (Morgonpasset i P3, Musikhjälpen, Bäst i test).

"It is fantastic to see the record number of nominations that have been received for Guldhemmet and that the event is becoming so established. After an unusual and challenging year for the property market, celebrating the industry feels more important than ever and I'm really looking forward to doing just that on March 23", says Cecilia Beck-Friis, CEO at Hemnet.

During the evening, ten awards will be presented to real estate agents and property developers. Six of these are based on nominations, with winners and finalists selected by the Guldhemmet jury, and three awards are based on Hemnet's sales statistics ("Andelsstatistiken"). One award (Top Agent of the Year) is a "hybrid award" where the finalists and winners are based on a combination of statistics and a qualitative nomination.

Finalists
Nomination awards - Real estate agents

Shooting Star of the Year (Årets Stjärnskott)
Maria Sandberg, RUM Mäklarbyrå , Kristianstad
Mikael Pålsson, Ludvig & Co Fastighetsförmedling, Kristianstad
Sebastian Abrahamsson, Fastighetsbyrån, Helsingborg

Agent Assistant of the Year (Årets Mäklarassistent)
Lena Kvant, Fastighetsbyrån, Lund
Caroline Jönsson. Erik Olsson, Nacka
Annette Alvarsson, Fastighetsbyrån, Linköping

Agent Personality of the Year (Årets Mäklarpersonlighet)
Ebba Thielebeule, Alicia Edelman, Stockholm
Filip Abrizeh, Fastighetsbyrån, Stockholm
Linus von Hofsten, Svenska Mäklarhuset, Solna

Agent Office of the Year (Årets Mäklarkontor)
Fastighetsbyrån, Kungsbacka
Alicia Edelman, Stockholm
Ahre Villor & Våningar, Göteborg

Top Agent of the Year (Årets Toppmäklare) (hybrid award)
The selection for Top Agent of the Year consists of the top-selling real estate agent in each district, and the finalists and winners are selected by Guldhemmet's jury based on the nominations submitted.

Richard Lagerling, Lagerlings, Östermalm
Selma Kahrimanovic, Pontuz Löfgren, Kalmar
Julian Valkov, Eskils fastighetsförmedling, Eskilstuna
Nomination awards - Property Developers
Housing project of the Year(Årets Bostadsprojekt)
Onesix, OKIDOKI
Greenhouse Sthlm, Electrolux Group
Cederhusen, Folkhem

Innovator of the Year (Årets Nytänkare)
Brf Villa Mälarhöjden, Theory Into Practice
Arkitektradhusen Brunnshög, Lunds kommun
OBOS Deläga, OBOS
Statistical prices based on Hemnet's "Andelsstatistik":
Agent of the Year - houses (Årets Husmäklare)
Martin Drotz, Svensk Fastighetsförmedling, Linköping
Christian Johansson, Mäklarhuset, Gislaved
Peder Ledin, Fastighetsbyrån, Boden

Agent of the Year - Apartments (Årets Lägenhetsmäklare)
Ronni Mleczkovicz, Unik Fastighetsförmedling, Stockholm
Jony Eliyo, Länsförsäkringar Fastighetsförmedling, Järfälla
Benjamin Akyol, Länsförsäkringar Fastighetsförmedling, Göteborg Nordost

Agent Company of the Year (Årets Mäklarkedja)
Fastighetsbyrån
Länsförsäkringar Fastighetsförmedling
Notar

The jury that appoints the Guldhemmet winners:
Kajsa Crona, Office Manager Tengbom and adj professor Chalmers
Tobias Olsson, Union Director Sveriges Arkitekter
Anders Carlén, Business Developer Bonnier News
Kajsa Hessel, CEO Svensk Byggtjänst
Aurora Ruuskanen, Product Manager new construction Hemnet
Joakim Båge, Consultant
Jenny Persson, Editor in Chief Mäklarvärlden
Jenny Stenberg, CEO Fastighetsmäklarförbundet
Jonas Rosén, CEO Mäklarsamfundet
Staffan Tell, Head of PR Hemnet
For more information about Guldhemmet, visit guldhemmet.se or follow us on Instagram @guldhemmet.
Press enquiries
Staffan Tell, Head of PR
M: +46 733 67 66 85
E: [email protected]

About Hemnet
Hemnet operates the leading property platform in Sweden. The company emerged as an industry initiative in 1998 and has since transformed into a "win-win" value proposition for the housing market. By offering a unique combination of relevant products, insights and inspiration, Hemnet has built lasting relationships with buyers, sellers, and agents for more than 20 years. Hemnet shares a mutual passion for homes with its stakeholders and is driven by being an independent go-to-place for people to turn to for the various housing needs that arise through life. This is mirrored in the Company's vision to be the key to your property journey, supplying products and services to improve efficiency, transparency and mobility on the housing market. Hemnet's is listed on Nasdaq Stockholm ('HEM').
Documents